Scaffold Boards
More or less everyone knows what scaffold boards are and will have frequently seen them on building sites and projects in their area. A good number of property owners may also have scaffold boards located somewhere in their garden or home, which are used for a variety of purposes. Scaffold boards are normally considered to be durable and strong and are often employed between ladders for decorating, for bridging muddy lawns, for raised beds in the garden, and a hundred other possible uses. Whilst acknowledging that this happens, we're definitely not advocating such uses here!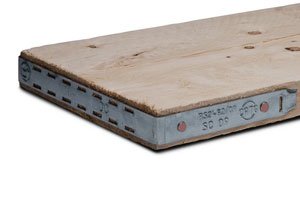 Generating a sturdy platform for workers on scaffolds, is however, the intended and proper use of scaffold boards. They are typically placed horizontally along the length of scaffold lifts, and are given extra support at intervals which will be based on the quality or grade of the boards being used.
Typically 225mm wide and 38mm thick, scaffold boards in the United Kingdom normally come in lengths ranging from 5 feet (1.5m) to 13 feet (3.9m). Easily identified as they've got a galvanised metal band at each end, timber scaffold boards need this extra protection to help stop them from splitting and strengthen the exposed end grain of the board. There are different kinds of scaffold boards and they aren't all made from timber.
The Different Types of Scaffold Boards
Grade "A" Scaffold Boards - Used for many decades by scaffolders throughout the United Kingdom, grade "A" scaffold boards have widely been viewed as the standard board for those in the scaffolding sector. The fact of the matter is, that grade "A" scaffold boards do not satisfy British Standards requirements, and whilst they rarely break and cause an issue, they should not be the first choice for use on a building site.
BSI Standard Scaffold Boards - These scaffold boards do comply with British Standards (BS 2482:2009) and are recommended for use on-site. The metal end band will be marked with all the information for identification including whether they've been visually or machine graded (V or M), and the British Standards mark. It is recommended that these scaffold boards should be supported at 1.2m (3.9 feet) intervals in order to be fully safe.
Flame Retardant Timber Scaffold Boards - Scaffold boards which are flame retardant up to Class C of the British Standards BS EN 13501-1, can be purchased in timber where required.
Metal Scaffold Boards - British Standards (BS EN 12811-1) compliant galvanised metal scaffold boards are easy to clean, durable, strong and flame retardant, they are particularly useful in harsh environments.
Plastic Scaffold Boards - Plastic scaffold boards are another alternative for scaffolding contractors, they are more rot and water resistant, are non-slip, last longer, and can be purchased to meet British Standards requirements.
← ← ← BACK TO MAIN ARTICLE ← ← ←